Fire Safety Signs
You can buy all your fire safety signs here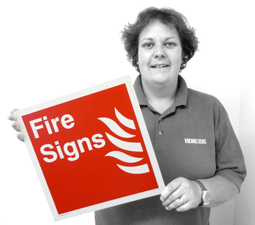 Are you looking for fire safety signs?
One of the biggest dangers within the workplace is fire. This is especially the case if your line of business involves dealing with flammable and explosive materials.
However, in any type of workplace, fire safety signs are vital. Even though in small firms it may seem obvious where to go and what to do in the event of a fire, if your employees panic and are not guided by fire action signs, it could result in the whole premises being burnt, putting a stop to operations. Or, the worst could happen and lives be lost.
Other major risks you need to consider include whether you have members of staff that work in parts of a building alone, use heat processes, stock combustible materials and have entry points for members of the public - potentially increasing the risk of arson.
To minimise the chance of a fire occurring and to guide visitors and employees on how to respond, make sure you have the right fire safety signs.
Why are fire safety signs required?
Under the Health and Safety (Safety Signs and Signals) Regulations 1996, the EC Safety Signs Directive was brought into effect to try and standardise fire safety signs across the European Union.
Signs are required when risks exist which cannot be avoided by other means or controlled. If a sign would not reduce this risk, or if it is not deemed as significant, they are not needed. However, you need to be 100 per cent sure this applies before opting not to invest in fire safety signs.
Your local fire authority can be found on Directgov and it is this body that will advise you on the use of appropriate signage. However, you need to make sure that the symbols on the fire exit signs and other ones comply with BS 5499 Part 1:1990 Fire safety signs, notices and graphic symbols.
The standards detail that fire extinguisher signs are red with white images and writing on, while fire exit signs are green and white. Fire action signs, meanwhile, are usually blue and white.
If you do not have the right signage in place, you could find yourself at risk of being prosecuted by your local fire authority. This could seriously damage your finances and reputation - while the lives of employees and visitors may also be put at risk if your fire safety signs are lacking or incorrect.
The different types of signs
Fire safety signs fall into three main categories: fire extinguisher (or equipment), fire exit and fire action.
Those relating to equipment indicate the location of devices and the type present. These have to be red under health and safety law and are especially important if fire extinguishers are not immediately in the line of sight of staff.
They tend to explain whether the extinguisher is foam, dry, water or carbon dioxide and how to use them, such as if they are safe to use on electrical or gaseous fires.
Another popular equipment notice is for fire alarm call points. These signs need to be around 1.7m to 2m off the ground according to BS 5499 rules. It should also be close to or next to the call point so individuals can find what they are looking for straight away.
Fire action signs can be pictorial, with text or both. For example, they can include calls to action such as sounding the alarm system, leaving the building via the nearest and safest fire exit and not using lifts.
Finally, fire exit signs come under the remit of Part 4 of BS 5499 which details the importance of the positioning of signs. They cannot be placed on a wall in a way that would cause confusion or where they would not be clearly seen. Your local fire authority can advise you on this.
Once you have purchased all the fire safety signs you need, make sure they are used to their full potential by placing them in the right position and fixed with the correct materials.
One of our most popular signs is the "fire alarm call point sign" - if you're in the process of sourcing some of these signs, but are not entirely sure where to locate them, we've got some recommendations on our safety signs blog:
Add £50 for a 5% discount
Customer Feedback: