Delivery
We are closed over the bank holiday. Orders recieved after 12 noon on Friday will be shipped on Tuesday 26th May.
DELIVERY DELAYS: We are shipping orders received by 12pm same-day, orders received after that will go next-day (although we will ship earlier if we can). Some Royal Mail deliveries are taking 3-4 days longer than normal. This means standard First Class service is currently very unlikely to arrive next day. Courier networks are also under pressure, but it may be worth upgrading to DPD / Express in the checkout process if you need your signs quickly or tracking is important.
Please be a little more patient than normal and remember if you're not available to receive your parcel, it may be returned to us rather than being held at your local depot.
We have split the business into two teams and moved half to remote working. This protects our team and makes us more robust.
We are rapidly developing new products to meet the new challenges our customers are facing. If you need something you can't find on the site, please get in touch and we will task a team member with developing the product for you.
Free Delivery on all orders
Any order you place (no matter how small), will get completely free delivery anywhere in the UK. All orders will be sent Royal Mail First Class. You can still upgrade to a courier service for an additional £6.95 + VAT.
It isn't just free, it's fast too.
Order by 12pm on any business day and we'll post your order that evening.
We will post that evening by Royal Mail First Class post, in time for that day's post. 98% of First Class post gets there next working day, so you should be receiving your signs pretty quickly. If you live in remote areas of the UK your deilvery may take longer.
Upgrade to a courier service for £6.95 + VAT.
If you want a guaranteed next day service, would like detailed tracking or the ability to use DPD services to control or change your delivery, then you can upgrade to a DPD Next Working Day courier service for £6.95 + VAT.
If you order by 12 noon we will hand over to the courier that evening for next working day delivery for most parts of the UK.
For some 'remote' areas this service will be delivered within 2 working days - please call us to check if this would affect you.
Orders placed after 12 oon or on non-working days,
will be shipped the following working day, i.e orders placed over the weekend (Sat-Sun) will ship the following Monday; any placed on a Friday after 12pm, will be shipped the following Monday.
If it's after 12pm and you still need your signs shipped today - or it's Friday and you need them delivered on Saturday, this is often still possible. Please give our miracle working team a call, to confirm what we can do. If you'd like your order shipped to an alternative location, or would like a time guaranteed (e.g. by 9am next day) delivery - please also contact us for a quote.
You can select either of these options at the checkout - but if you've already placed your order and you'd like to change the shipping method - please call our sales team to arrange this.
We regularly review our charges and delivery methods and if we find we can offer you a better service with an alternative carrier, we reserve the right to do so.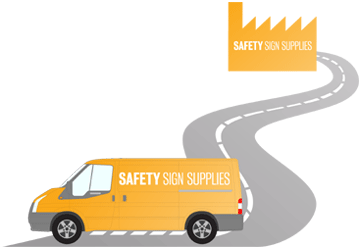 Highlands and Islands Delivery Service
If you place an express order before 12:30pm on a weekday, we will make and ship your signs the same day. Our courier will pick up your signs that evening.

For many areas it is then a next day delivery service, but if you are based in the Highlands or Islands please check the table below for courier delivery times.
| Area | Postcode | Service |
| --- | --- | --- |
| Aberdeen | AB31 - AB35 | Two Day |
| Aberdeen | AB41 - AB54 | Two Day |
| Northern Highlands | AB36 - AB38 | Two Day |
| Northern Highlands | AB55 - AB56 | Two Day |
| Argyll | FK17 - FK21 | Two Day |
| Glasgow | G83 | Two Day |
| Guernsey | GY9 | Two Day |
| Northern Highlands | HS1 - HS9 | 2-4 Days |
| Isle of Man | IM (ALL) | Two Day |
| Northern Highlands | IV (ALL) | Two Day |
| Arran | KA27 | Two Day |
| Argyll | KA28 | Two Day |
| Northern Highlands | KW0 - KW14 | Two Day |
| Orkney Shetland | KW15 - KW17 | 2-4 Days |
| Argyll | PA20 - PA78 | Two Day |
| Dundee | PH15 - PH18 | Two Day |
| Northern Highlands | PH19 - PH29 | Two Day |
| Northern Highlands | PH32 - PH33 | Two Day |
| Northern Highlands | PH45 - PH48 | Two Day |
| Argyll | PH30 - PH31 | Two Day |
| Argyll | PH34 - PH44 | Two Day |
| Argyll | PH49 - PH99 | Two Day |
| Orkney Shetland | ZE (ALL) | 2-4 Days |
There are no results for this search
Add £50 for a 5% discount
Customer Feedback: