CCTV in Operation Signs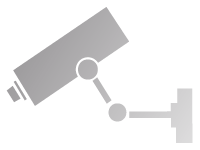 C.C.T.V. warning signs indicate and warn of the presence of closed circuit television systems or cameras.
Our CCTV signs are Data Protection Act compliant. In order to be compliant with the Data Protection Act, operators of CCTV systems need to provide a warning that a system is in use (using signs for example) and give people potentially captured by the CCTV system, information about who is operating the cameras.
Just enter the details of your business into the custom sign box on the product page and we will print the signs with your details.
CCTV warning signs as a deterrent

CCTV warning signs can also act as a deterrent in their own right, so even if you cannot afford the full cost of a CCTV system it is worth considering investing in the signs as a precautionary measure. CCTV cameras are getting smaller and smaller now, so a sign placed next to a alarm sensor may be enough to give a thief or a vandal pause for thought before breaking the law or your property.
CCTV signs and the Data Protection Act

CCTV can play a great role in reducing crime, improving safety and helping to solve crimes if they are committed. But in order to protect privacy, legislation has been introduced that means business must inform visitors to their site of a number of different points, when they are operating a CCTV scheme. This information allows individuals to contact the operator and to request to see the information held about them (in this case the CCTV footage).

As someone operating a CCTV system you are responsible for:

Clearly informing people that you are operating a CCTV scheme
Providing your details, so that visitors to your site can contact you to request footage of themselves (unless they are in a location where this information is obvious)
Communicating the reason that you are operating the system (eg. crime prevention).

The signs must also be an appropriate size for the context (eg. taking into account where pedestrians and drivers will be when reading the sign etc.).

A simple CCTV sign is a great way of achieving this. Because our signs are easily customisable and we can print the name of your business direction onto the sign before we dispatch it to you, this offers a simple and effective way of discharging your responsibilities under the data protection act.
Materials and positioning

When installing your CCTV sign, it is important that they are legible, so they need to be the correct size for the distance and the conditions. Take a look at our quick guide for some information on sizes and viewing distances.

Self adhesive vinyl is a low cost and simple method for indoor or sheltered spaces and aluminium composite (the material used in conventional road side signs) will give a very hard wearing finish suitable for use outdoors.
Add £50 for a 5% discount
Customer Feedback: