Delivery
All orders shipping as normal
*We will ship orders placed before 4:45pm the same day on working days
Free Delivery on all orders
Any order you place (no matter how small), will get completely free delivery anywhere in the UK. All orders will be sent Royal Mail First Class. You can still upgrade to a courier service for an additional £6.95 + VAT.
It isn't just free, it's fast too.
Covid-19 Delays
We have seen a return to normal service with postal and courier deliveries, but there are still some localised delays.
Check Royal Mail delivery status in your area.
Order by 4:45pm (2pm for larger items) on any business day and we'll post your order that evening.
We will post that evening by Royal Mail First Class post, in time for that day's post. 98% of First Class post gets there next working day, so you should be receiving your signs pretty quickly. If you live in remote areas of the UK your delivery may take longer.
Larger items
If you have placed an order for one of our products badged as alarge item we will aim to ship this on the same day for all order placed by 4:45pm on a week day. However due to additional packaging requirements these products do very ocassionaly get shipped next day. Our team will be in touch if there are any issues. If you haven't heard from us, then you can assume it will be shipped on time.
Upgrade to a courier service for £6.95 + VAT.
If you want a next working day courier service, would like detailed tracking or the ability to use courier services to control or change your delivery, then you can upgrade to a Next Working Day courier service for £6.95 + VAT.
If you order by 4:45pm we will hand over to the courier that evening for next working day delivery for most parts of the UK. If you order before 4:35pm on a Friday we will ship on Friday for delivery on Monday. If you order after 4:45pm on a Friday we will ship your order on Monday for Tuesday delivery.
For some 'remote' areas this service will be delivered within 2 working days - please call us to check if this would affect you.
Orders placed after 4:45pm (2pm for larger items) or on non-working days,
will be shipped the following working day, i.e orders placed over the weekend (Sat-Sun) will ship the following Monday; any placed on a Friday after 4:45pm, will be shipped the following Monday.
If it's after 4:45pm and you still need your signs shipped today - or it's Friday and you need them delivered on Saturday, this is often still possible. Please give our miracle working team a call, to confirm what we can do. If you'd like your order shipped to an alternative location, or would like a time guaranteed (e.g. by 9am next day) delivery - please also contact us for a quote.
You can select either of these options at the checkout - but if you've already placed your order and you'd like to change the shipping method - please call our sales team to arrange this.
We regularly review our charges and delivery methods and if we find we can offer you a better service with an alternative carrier, we reserve the right to do so.
Shipping to the EU: Available - but only via phone orders
We are still having some issues processing EU shipping as a result of customs and process changes in the new EU-UK Trade and Cooperation Agreement. We are working to resolve this, but in the meantime we are only able to ship to the EU for phone orders.
So if you need to ship to the EU : CALL US on 01476 957980.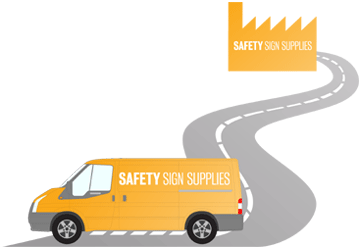 Highlands and Islands Delivery Service
If you place an express order before 4:45pm on a weekday, we will make and ship your signs the same day. Our courier will pick up your signs that evening.

For many areas it is then a next day delivery service, but if you are based in the Highlands or Islands please check the table below for courier delivery times.
| Area | Postcode | Service |
| --- | --- | --- |
| Aberdeen | AB31 - AB35 | Two Day |
| Aberdeen | AB41 - AB54 | Two Day |
| Northern Highlands | AB36 - AB38 | Two Day |
| Northern Highlands | AB55 - AB56 | Two Day |
| Argyll | FK17 - FK21 | Two Day |
| Glasgow | G83 | Two Day |
| Guernsey | GY9 | Two Day |
| Northern Highlands | HS1 - HS9 | 2-4 Days |
| Isle of Man | IM (ALL) | Two Day |
| Northern Highlands | IV (ALL) | Two Day |
| Arran | KA27 | Two Day |
| Argyll | KA28 | Two Day |
| Northern Highlands | KW0 - KW14 | Two Day |
| Orkney Shetland | KW15 - KW17 | 2-4 Days |
| Argyll | PA20 - PA78 | Two Day |
| Dundee | PH15 - PH18 | Two Day |
| Northern Highlands | PH19 - PH29 | Two Day |
| Northern Highlands | PH32 - PH33 | Two Day |
| Northern Highlands | PH45 - PH48 | Two Day |
| Argyll | PH30 - PH31 | Two Day |
| Argyll | PH34 - PH44 | Two Day |
| Argyll | PH49 - PH99 | Two Day |
| Orkney Shetland | ZE (ALL) | 2-4 Days |
There are no results for this search
Add £50 for a 5% discount
Customer Feedback: