Safety Posters
Safety Posters show first aid, health and safety information in a concise easy to read format. They often contain useful illustrations and drawings to educate and inform employees about various safety topics.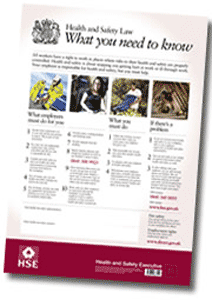 Whether you're running a factory, a construction site or an office - there are risks and hazards associated with peoples jobs. Our safety poster range provided a choice of posters to suit the risks likely to effect your employees. From a simple first aid guide to a detailed manual handling guidlines poster - we've got one with the right information.
Do you require new safety posters?
Safety posters are the perfect products for businesses both large and small to clearly, quickly and concisely detail certain health and safety practices and advice.
Whatever sectors an organisation operates in and whatever the risks involved, safety posters can help firms get the required message across, from how to operate machinery to basic first aid.
Aside from these industry-specific publications, employers are legally obliged under the Health and Safety Information for Employees Regulations 1989 to prominently display the British Health and Safety Law poster.
A new version was released by the Health and Safety Executive (HSE) in 2009 to clarify legislation, as well as the duties of both companies and employees. A deadline of April 5th 2014 is in place for businesses to put up the latest safety posters and to take down the old, text-heavy versions from 1999.
It is not mandatory for health and safety contacts and representatives to be detailed on the new law signs, but there is still space for this if an employer wishes to highlight these to staff. The new safety posters can also be provided to all workers as a leaflet, if this would be more convenient. Whichever type selected, it must always be in a readable condition and displayed where it can easily be seen.
Safety posters - some of the most popular
The British Health and Safety Law signs are probably some of the most recognisable in the workplace, but businesses benefit from having a large range of safety posters which they can display.
One is the HSE Basic advice on first aid at work sign, which details simple procedures like resuscitation. Primarily aimed at employees, this safety poster will prove useful at a range of companies, from factories and construction sites to catering facilities and garages.
If an individual who has taken ill is unresponsive, it advises staff to open their airway, call the emergency services and to conduct chest compressions.
Safety posters about preventing slips and trips can also prove to be a wise investment, with the HSE noting that these are the most common hazards in the workplace and represent more than a third of serious injuries.
Signs about the risks involved with slips and trips will clearly detail how to avoid accidents, such as wearing the right footwear, making sure spaces are well-lit and ensuring cables are kept neat, tidy and safely out of the way.
These types of safety posters would also work well at a variety of businesses, including offices with a lot of computers, hospitals where the floors are regularly cleaned and in kitchens.
Other common signs that are worth looking at to see if they would deliver benefits for your firm include those about how to prevent and deal with electric shocks and posters about manual handling.
Further advice
Of course, businesses have more duties than just displaying the appropriate safety posters. Training employees in health and safety procedures can mean the signs serve as a daily reminder and help build on their current knowledge.
Staff, contractors and those who are self-employed but have a contract with a business must be educated in a number of areas, such as the hazards and risks they might come across, the measures in place to minimise these and how to respond in emergency situations.
A combination of training and safety posters can therefore prove effective when establishing a safe working environment.
Add £50 for a 5% discount
Customer Feedback: