Construction signs
You can buy all your Construction site safety signs here.
There are no results for this search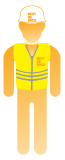 Construction Signs are used on building and construction sites
to show safety policy requirements such as PPE rules or hazards associated with the building work being undertaken. Traffic rules (speed limits, no entry, one way) are often indicated using 3mm PVC as a material for temporary signage on construction sites.
Other related sign categories for construction sites are:
Add £50 for a 5% discount
Customer Feedback: