Signs for Shops
Signs for Shops, Stores, Shopping Centres and other retail facilities.
There are no results for this search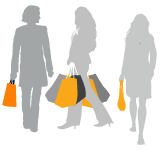 Shops, Shopping Centres and retail outlets have a specific need to protect members of the public from any risk associated with their normal business and also to protect their business from any risks from theft or damage. This range has been specially selected to help shopkeepers and shopping centre managers reduce risks and identify potential hazards related to their retail business.
Add £50 for free Standard shipping
Customer Feedback: